How Hard Is It to Get Into Nursing School?
If you've considered a nursing career, earning a Bachelor of Science in Nursing (BSN) degree is likely to be one of the best first steps. […]
Each blog post is dated and contains accurate information as of that date. Certain information may have changed since the blog post publication date. If you would like to confirm the current accuracy of blog information, please visit our ABSN overview page or contact admissions at (866) 891-0218.
If you're unsure of how hard is it to get into nursing school, factors influencing Loyola's ABSN program track include student demand and high academic standards as well as competition for open places. However, Loyola is dedicated to supporting students from the beginning of the admissions process onwards.
If you've considered a nursing career, earning a Bachelor of Science in Nursing (BSN) degree is likely to be one of the best first steps. Nurses will be needed to care for an aging population. Additionally, more than 40 percent of RNs are over 50 years old (including those working in critical access hospitals and private physician offices).
When you are returning for a second degree such as a BSN, the admissions process can feel intimidating. In this post, we de-mystify the admissions process, elaborate on how hard it is to get into nursing school, and highlight how Loyola University Chicago supports students applying to and studying for our Accelerated Bachelor of Science in Nursing Program Track.
Why Is There Competition to Get Into Loyola's ABSN Program Track?
If you're comparing multiple options for your nursing education, you will probably encounter admissions requirements that vary from institution to institution. Requirements often include GPA, prerequisites, academic degrees, to name a few. Loyola University Chicago is one of the nation's leading universities, regularly appearing in U.S. News & World Report's Best Colleges list. The Marcella Niehoff School of Nursing, was the first school of nursing to be accredited in the state of Illinois and continues to be a leader in the field of nursing today. While our high academic standards are evident in our admissions criteria, the following factors also play a part in admissions decisions.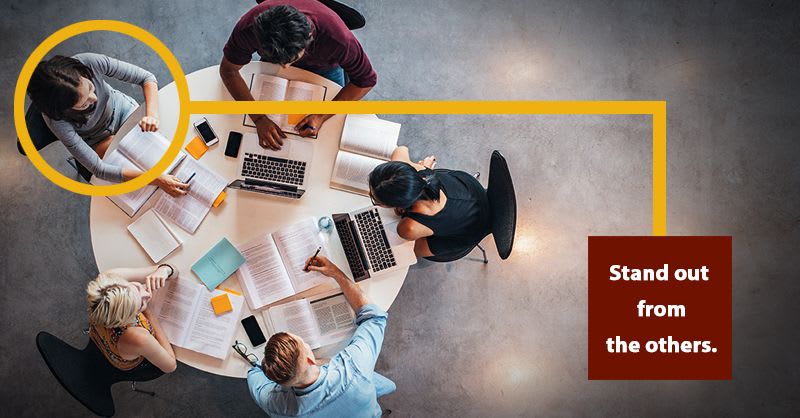 Student Demand
As with any degree program track, the level of student demand plays a part in admissions decisions. Much of Loyola's ABSN program track takes place in person. Students at our Health Sciences Campus in Maywood, Illinois, attend in-person classes, labs, and simulations and students at our Downers Grove students attend in-person labs, simulations, and meetings with faculty. With so much in-person learning, cohorts are suitably sized to ensure that each student receives the best possible nursing education with plenty of individual instructor attention. This shapes the available number of spots for each start date.
While Loyola can accommodate more students per start date at our Downers Grove site, competition for our on-campus ABSN program track is higher because of limited spaces available for in-person clinical placements at leading regional healthcare facilities. Students seeking to enroll in either program track will need to keep in mind Loyola's standards of excellence and ensure that their prior grades (as well as the admission materials they submit) meet those standards.
Academic Excellence
Beyond cohort sizes, another of the factors that determines how hard it is to get into nursing school is the admissions team's criteria at each institution. At Loyola, we maintain our admissions requirements so students have a strong foundation to build the knowledge and skills needed for the ABSN program and nursing profession.
The academic excellence and positive career outcomes shown to be accessible through a Loyola nursing education are important factors in driving student demand. As nurses continue to emerge from Loyola's ABSN program track into rewarding and fulfilling careers, students want to give themselves the best chances for success by favoring institutions like Loyola.
How Loyola Accommodates ABSN Program Track Students
Loyola is committed to working with each applicant to see if they meet admissions criteria. Loyola's ABSN program track has been designed to be an achievable degree path for students while still maintaining the high standards of academic excellence that students and employers expect. Below, we'll explore some of the ways in which Loyola's ABSN program track accommodates students.
Want to get into nursing school? See these 6 ways you can increase your chances of gaining admission.
Two Start Dates
As a Loyola ABSN program track student, you will choose from two start dates for each program track. Each year, we enroll cohorts in January and August at our Downers Grove site and Health Sciences Campus in Maywood. With a 16-month nursing curriculum, two start dates provide more options for students. We also review applications on a rolling basis, so you can expect admissions decisions from us within a matter of weeks.
Admissions Support
As a prospective Loyola ABSN program track student, you will be supported throughout the admissions process by a Loyola enrollment advisor who will help guide you. They will create a personalized academic plan to help you meet all the admissions criteria and they'll provide reminders about submitting all the required application materials. While there is competition to enter the program track, as a Loyola ABSN student you will have the necessary admissions support to see the process through.
Ready to Start Your Nursing Journey?
With a realistic picture of how hard it is to get into nursing school, know that you'll have plenty of personal and academic support throughout Loyola's admissions process as well as once you're a student. Our leading clinicians, professors and instructors are ready to provide prompt responses and help students better understand course material. It is our goal to ensure that students have access to the time and resources necessary to be successful.
Contact our admissions team today to speak with a program track enrollment advisor and take the next step toward a new and exciting career. With a nursing education from Loyola, your future in the profession looks bright as you promote care for oneself, others, and the community.