What do Nursing Schools Look for in Applicants?
Each blog post is dated and contains accurate information as of that date. Certain information may have changed since the blog post publication date. If you would like to confirm the current accuracy of blog information, please visit our ABSN overview page or contact admissions at (866) 891-0218.
What do nursing schools look for in applicants? That's tough to answer given all of the nursing program options available today, with each one having unique admission requirements. But if you're interested in our 16-month ABSN program, we can tell you exactly what the Marcella Niehoff School of Nursing at Loyola University Chicago looks for in applicants.
Previous Academic Success
To qualify for our ABSN program, you must have a non-nursing bachelor's degree from a regionally accredited institution, along with a cumulative GPA of 3.0 on a 4.0 scale. Your program eligibility also hinges upon your successful completion of the following ABSN prerequisite courses:
| Prerequisite Course | Minimum Grade Requirement |
| --- | --- |
| Chemistry + Lab | C |
| Anatomy and Physiology I & II + Labs | C |
| Microbiology | C |
| Introduction to Psychology | C- |
| Developmental Psychology | C- |
| English (two courses) | C- |
| History | C- |
| Statistics | C- |
Passion for the Nursing Profession
While you don't need any previous health-care experience to qualify for our ABSN program, we do expect you to have a sincere passion for helping others. If salary and job security are your only reasons for becoming a nurse, you probably won't be happy in the profession.
Dedication to Learning
To succeed in our full-time, four-semester ABSN program, you need to devote anywhere from 40 to 60 hours a week to your education. After all, our accelerated learning model comprises a rigorous blend of core coursework, nursing skills and simulation labs, and clinical rotations in diverse areas of practice.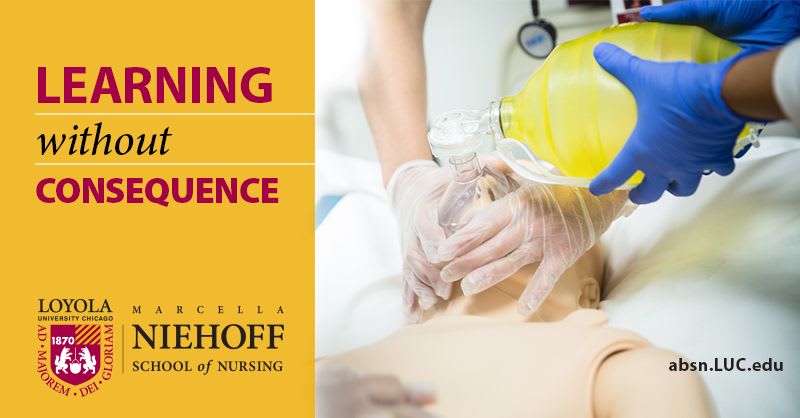 Want to know more about our skills and simulation labs? We've detailed how these labs serve as the bridge between core nursing courses and clinical rotations.
It's probably best if you don't work while in the program. But if you must, you should consider a part-time job with flexible hours. Why? Because you need to be able to attend weekly labs at our program site and work eight-hour shifts (day or night) during clinicals.
What to Expect From the Application Process
While getting into nursing school is by no means easy, the application process for our ABSN program is fairly simple and straightforward. In fact, we don't charge an application fee, nor do we have any entrance exam requirements. Below are some things you can expect from the application process:
First Conversation: Getting to Know You
When you speak to an ABSN enrollment advisor for the first time, you'll have questions and this individual will be more than happy to answer every single one of them. However, there are several variables to consider when applying to an ABSN program, especially since no two applicant situations are the same. Therefore, your advisor needs to know a little about you before he/she can best address your questions.
For example, your advisor may ask you about your family commitments. You might find this question odd at first, but there's a reason for asking it. Because our ABSN program is like a full-time job, your advisor wants to make sure you have enough support resources in place to succeed in nursing school. Overall, this conversation is a way to determine if you're a good fit for the program and vice versa.
Second Conversation: Personalized Enrollment Plan
Once it's determined that you're a good fit for our ABSN program, you'll work with your advisor on a customized enrollment plan that works toward a specific start date. If you need to complete some of the prerequisite requirements, he/she will incorporate these courses into your plan.
It's important to note that once you've successfully completed at least one of the science-based prerequisites, you can apply to the program. However, all remaining prerequisites must be completed within our requirements before you can start nursing school.
If your plan is to start the program in January, you need to have all of the prerequisites completed by early December. For the August start, you must complete the prerequisites by early July.
Continuing the Conversation
Your advisor will stay in close contact with you throughout the application process, but it's not to pester you. His/her job is to champion your entry into the ABSN program. When you're ready to complete our nursing school application, your advisor will send you an application link with detailed instructions. He/she will guide you in creating the most competitive application possible.
Our Advice for Your Application
According to Loyola Director of ABSN Enrollment Payton Leach, a lot of applicants tend to overthink the application process. When navigating the process, she says it's really just a matter of:
Reading your application instructions carefully.
Following all of the directions provided to you.
Sticking to your customized enrollment plan.
Maintaining contact with your advisor.
As part of the application process, you'll need to supply the following materials:
Official college transcripts
Letters of recommendation
Prerequisite completion form
A relevant, up-to-date resume
Written personal statement
Timing is Everything
To keep your application moving along smoothly, Payton recommends ordering your official transcripts as early in the application process as possible. Also, double-check to make sure that you're sending your transcripts to the right place.
When it comes to the recommendation letters, Payton says it helps to identify your two references (academic or professional) as soon as possible. Be sure to tell them what they need to do and give them a deadline. It's also in your best interest to follow-up with your references to ensure they submit your letters within the specified timeframe.
In a nutshell, you need to be proactive in obtaining your transcripts and recommendation letters. You don't want to miss out on your preferred program start date because you received these materials late.
The Early Bird Gets the Worm
We review applications as they come in, and our ABSN program fills up fast. It's best to submit your application within the first two weeks of open enrollment to increase your chances of securing a spot in your preferred term.
Focus on Relevant Skills
When putting together your resume, it helps to think about the qualities that every great nurse possesses (competency, compassion, confidence, commitment, etc.) and then focus on those qualities in relation to your past experiences. We want you to include anything that shows your passion and drive to help others.
Get to the Point
Nursing is a profession that requires you to be both knowledgeable and compassionate. While standard application materials tell us about your academic experience, a personal statement gives us a better sense of who you are as a person.
According to Payton, your personal statement needs to be 500 words (no more, no less). She says the best statements are succinct and give examples of your skills and goals in relation to the ABSN program and the nursing profession.
Consider these points before writing your personal statement:
Be memorable by explaining what inspired you to become a nurse.
Be passionate by describing your desire to make a difference in the profession.
Be direct by using clear, strong language that gets to the point.
Be concise by avoiding details that take away from the main message.
Be detailed by reviewing every sentence for grammar mistakes.
Are You Ready?
Now that you know what our nursing school looks for in applicants, are you ready to earn a quality BSN in as few as 16 months? Contact our enrollment team today!