What is Nursing School Like at Loyola?
Each blog post is dated and contains accurate information as of that date. Certain information may have changed since the blog post publication date. If you would like to confirm the current accuracy of blog information, please visit our ABSN overview page or contact admissions at (866) 891-0218.
Before committing to an ABSN program, like the track at Loyola, it is important that you know what nursing school is like. Our students go through rigorous training which includes nursing coursework, skills and simulations labs, and clinical rotations before they graduate in as little as 16 months.
Are you anxious about attending nursing school? Many students who apply to Loyola University Chicago's Accelerated BSN track have experienced self-doubt at some point during the admission process. To help alleviate your apprehension, we're here to tell you what the nursing school experience is like in our ABSN track.
What to Expect in Loyola's ABSN Track
Part of Loyola's health sciences division, the Marcella Niehoff School of Nursing is home to the oldest baccalaureate nursing program in Illinois, with the first class admitted in 1935. Today, Loyola remains a leader in health-care education, offering undergraduate, graduate, and doctoral programs framed within the context of Jesuit values.
Our 16-month second-degree Accelerated Bachelor of Science in Nursing track is designed to build on our students' previous education. Because it is an accelerated track, be prepared to experience a curriculum which includes online or in-person nursing coursework, skills and simulations labs, and clinical rotations. After graduating from the track, you will go on to take the NCLEX-RN® licensure exam and begin pursuing your transition into the profession.
Online or In-Person Coursework
Our ABSN track offers both hybrid and in-person options for your nursing coursework, depending on which location you attend. The track offered at our Downers Grove, Illinois ABSN Learning Center offers a hybrid option. If you choose this style of coursework, you will be completing most of your coursework online while still meeting deadlines. Every week, you will meet at the Learning Center to review materials and prepare for exams.
If you prefer a more traditional in-person learning experience, consider the ABSN track at the Health Sciences Campus in Maywood, Illinois. Regardless of which location you choose, you will have access to the many resources that we offer to our students.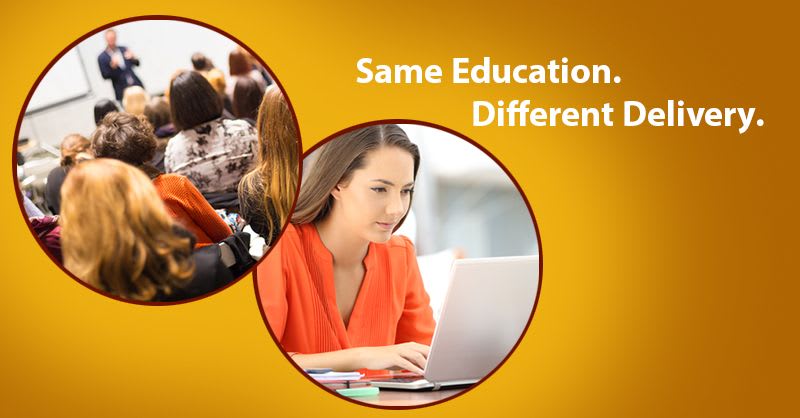 If you aren't sure whether to choose online or in-person learning, check out the differences between an online and traditional education for nurses.
Skills and Simulations Labs
If you are wondering what nursing school is like, you are probably curious about the unique labs you will be participating in. Our hands-on skills and simulations labs allow you to apply the knowledge you gained in your coursework. Our laboratories mimic hospital environments so that our students can practice in life-like settings. During our skills labs, you will learn and practice nursing skills such as starting IVs, wound care, and catheterization. Simulations labs, on the other hand, allow you to practice playing out real-life scenarios using your new skills.
At Loyola, we also strive to provide interprofessional learning opportunities, especially during nursing simulations. Whenever possible, nursing students engage with other health sciences majors at Loyola, such as medical students from the Stritch School of Medicine. The goal is for students to learn how to function as part of a health-care team that works in concert to achieve the best possible patient outcomes. This approach to learning teaches nursing students how to provide safe, quality patient care in a collaborative team environment. In fact, the Institute of Medicine has endorsed interprofessional education as a means of improving the overall quality of health care.
Clinical Rotations
During your clinical rotations, you will be putting all your new knowledge to the test and will get to see some of the simulations you practiced play out in real life. Quality clinical placements are key to graduating professional nurses, and Loyola's nursing school maintains partnerships with some of the best health-care facilities in and around Chicago.
No matter the health-care facility, Niehoff nursing students gain diverse, real-world professional practice experience. They also participate in an intensive role transition course where they work under the guidance of an experienced nurse preceptor.
Additionally, clinical rotations can prove to be invaluable networking opportunities. It is not uncommon for students to be offered positions during their clinicals (contingent, of course, on their graduation and passing of the NCLEX). This is something to keep in mind, especially during a rotation that you find you particularly enjoy. Even if you don't get an offer during your clinicals, getting your name out there can only help you in your job search.
Student Resources
While taking on an ABSN track is certainly a challenging endeavor, at Loyola you will have plenty of support along the way. From our excellent faculty to our knowledgeable enrollment advisors, you will always have someone ready to answer any questions you might have.
When it comes to Loyola's nursing school faculty, you won't find a better, more passionate group of educators. Many of our full-time faculty have doctoral degrees and are certified in their respective areas of clinical expertise. These scholars promote a learning environment of inclusiveness, individual support, and collaboration to best facilitate student progress, from basic to advanced clinical competence.
Our team of enrollment advisors also know what it takes to be successful in Loyola's nursing school, and they are readily available to share that knowledge with prospective students. Every prospective ABSN student is assigned an enrollment advisor who provides personalized support and guidance throughout the admission and application process.
See the 9 things the ABSN admissions team wants you to know about the track.
Why Choose Loyola's ABSN Track?
It is important to choose an ABSN program that best suits your needs. As you consider, keep in mind that the ABSN track at Loyola allows students to choose the learning modality that best suits their lifestyles and provides access to high-tech laboratories and clinical placements at some of the Chicago area's best health-care facilities. It also offers plenty of resources to support students along the way.
But what else makes us the right choice for a student? Knowing the details of what our nursing school is like, such as the Jesuit values we emphasize, the expert professors and clinicians who teach students, and the long legacy of nursing excellence our Marcella Niehoff School of Nursing provides, can make a Loyola nursing education truly special.
Transformative Teaching
To enhance the health of individuals, communities, and society, Loyola's nursing tracks combine faith and reason with intellectual rigor. It's a transformative learning experience which follows the five hallmarks of a Jesuit education:
Commitment to excellence
Faith in God and religious tradition
Service that promotes justice
Values-based leadership
Global awareness
Nursing students learn in both the classroom and the community to develop the skills health-care employers demand and to understand the moral implications the nursing profession has on society.
Focusing on social justice is something that's important in health care, and it is evident in the classes that you take [at Loyola].

Angie Tosaw, Loyola Nursing Graduate
Outstanding Outcomes
All of Loyola's nursing tracks deliver excellent outcomes for students as well as the individuals and communities they serve. In fact, Niehoff School of Nursing graduates are poised to shape the future of health care and champion Jesuit values within the nursing profession.
When it comes to the Accelerated BSN track specifically, the goal is to prepare students to:
Deliver competent, compassionate care to diverse patient populations.
Navigate the unique faith and cultural needs of patients.
Integrate ethics and legal knowledge into nursing care.
Collaborate with others in interdisciplinary patient care.
Incorporate scientific evidence and patient/family preferences into nursing care.
Understand government influence and institutional policies in public health.
Every Accelerated BSN track graduate leaves the Marcella Niehoff School of Nursing with the knowledge and skills required to enter the workforce as a team-based, professional nurse. They also leave Loyola with a Jesuit mindset that reflects a passion for justice and a commitment to the greater good.
These outstanding outcomes are recognized not only by us, but also by health-care facilities in Chicago and beyond. This becomes evident to our students especially during clinical rotations, as they often receive recognition for representing Loyola as they interact with other professionals, who realize the quality of education our students receive.
Health-care employers know the Loyola name. You can go to any hospital in Chicago and tell on the floor that the nursing staff and managers all have respect for the Loyola students. They know the prestige of the track and how rigorous it is and how well we are trained.

Jordan Templin, Loyola Nursing Graduate
Ready to Get Started?
Want to know more about what nursing school is like at Loyola? Contact our admissions team to have one of the ABSN track enrollment advisors answer all your questions as well as suggest upcoming nursing events that you should attend. The next step in your nursing journey is waiting, so don't hesitate to reach out today.