6 Ways to Increase Your Chances of Getting into Nursing School
Each blog post is dated and contains accurate information as of that date. Certain information may have changed since the blog post publication date. If you would like to confirm the current accuracy of blog information, please visit our ABSN overview page or contact admissions at (866) 891-0218.
If you're wondering how to increase your chances of getting into nursing school, choosing the right nursing program and working with your enrollment advisor can help you to meet all admission criteria and successfully become a nursing student working toward a BSN degree.
It's easy to fall in love with the idea of becoming a nurse. Nursing has been lauded as the most trusted profession in the U.S. time and time again, and have especially solidified that trust through their actions over the last several years. Some people may have been inspired by nurses they've encountered. For many, the desire for a career in nursing comes from a deep calling to help others. The in-demand nature of the profession and the many career opportunities nursing may open can be motivational, too. With all the nursing school options and competitive admissions, it is more important than ever to ensure that you have a strong application.
If you're trying to increase your chances of getting into nursing school and are interested in applying to Loyola University Chicago's 2nd Degree Accelerated Bachelor of Science in Nursing track, here are six steps you can take to raise your chances and make a positive impression on Marcella Niehoff School of Nursing admission personnel.
As you read through these steps and learn how to create a strong application, know that if our ABSN track in Downers Grove or Maywood, Illinois is a good fit for you academically, you'll have the support of a dedicated enrollment advisor throughout the application process. This advisor will work closely with you to make sure you submit the most competitive application possible.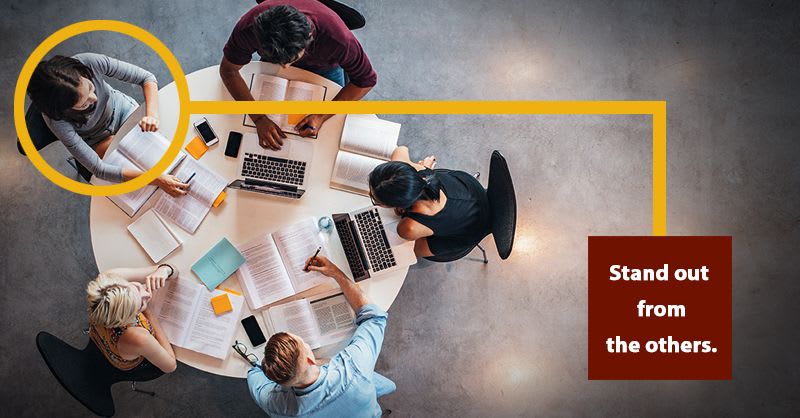 1. Speak with an Enrollment Advisor
Nursing is a rewarding profession, but you'll want to make sure that nursing matches your interests, qualifications, and abilities before making the commitment to earn your BSN. The first step in the admission process is to speak with an enrollment advisor. At Loyola, our enrollment advisors can help examine your goals and commitments, as well as your academic history, and help you confirm if our ABSN track is the best choice for you.
Present Yourself in a Good Light
When you speak with an enrollment advisor, showcase that you are a good fit for the track beyond simply meeting admission requirements. During your conversation, they will gauge how you feel about the nursing profession as well as how passionate you are about taking on the challenge of an ABSN track. The track is academically rigorous, and they want to be sure that you're ready for the challenge and to put in the work to earn your degree. Additionally, Loyola is proud to educate nurses who carry our strong Jesuit values of academic excellence, service, and leadership into their careers. Speak candidly about how you can meet the expectations of the degree.
2. Confirm That You Meet Admission Requirements
Every nursing school has a unique set of admission requirements. For the Loyola ABSN track, a second-degree option, you must have a bachelor's degree in a non-nursing field of study, along with a minimum cumulative GPA of 3.0 on a 4.0 scale. If your GPA is just below 3.0, you may still qualify for the track by doing well in the prerequisites (these courses factor into your overall GPA).
3. Successfully Complete Prerequisite Courses
Loyola's ABSN track has 10 prerequisite course requirements for which you must maintain a minimum cumulative GPA of 3.0 on a 4.0 scale. While you may apply to the ABSN track with some prerequisites in progress, you must satisfy all requirements before starting our track.
Your performance in science prerequisites is a strong predictor of your success in nursing school. If you don't have a science background, it's a good idea to space your science prerequisites so you don't take too many at once. Your enrollment advisor can help you develop a manageable plan for completing your prerequisites.
Depending on your field of undergraduate study, you may already have satisfied several of these prerequisites. While we accept credit transfers from accredited higher learning institutions in Chicago and beyond, ask your enrollment advisor to confirm that your course credits are transferable.
4. Write a Compelling Personal Statement
As part of the admission process, we require each student to write a 500-word personal statement to accompany your application. Because there's a good chance that other applicants will share your academic qualifications, a personal statement is an effective means to distinguish yourself from other applicants.
In your essay, candidly explain your passion for nursing and what led you to the profession through an example. Sharing the qualities that make you a fit for Loyola's ABSN track and describing your dedication to making a difference in the profession, can help strengthen your application.
Writing Tips for Your Nursing School Essay
Before you write your personal essay, remember these five points:
Be organized: Plan your strategy and outline your essay.
Be direct: Use clear, strong language.
Be concise: Avoid unnecessary details that detract from your key messages.
Be genuine: Write from your heart and explain what motivates you.
Be accurate: Proofread your essay to catch any grammatical errors.
5. Choose References Who Really Know You
Two letters of recommendation, which can be academic and/or professional, are another key component of a successful application.
Contact your references early in the admission process, giving them enough time to write and submit their letters by the application deadline. While your references submit their letters to us directly, you may want to give them an overview of what our admission committee wants to know about you and what makes you unique.
6. Include Relevant Skills in Your Resume
When sharing your resume with us, our School of Nursing admission committee wants to see those skills and experiences that position you as a standout student and future nurse. These experiences may include holding a leadership role to earning a special certification to performing community service.
We also want you to list any experiences that demonstrate your passion and drive to help others. Whether you job shadowed a healthcare professional as an undergraduate, helped care for a family member, or volunteered at a healthcare facility, be sure to tell us about it.
As you sit down to create your resume, it's helpful to think about the qualities every great nurse possesses, such as compassion, confidence, dedication, and ethics, and then really focus on those qualities in relation to your experiences.
Apply with Confidence
Now that you understand how to create a strong application, apply! Applying to enter the Loyola ABSN track ahead of the submission deadline can hopefully lead to a successful and rewarding career. Learn more about our application process by contacting our ABSN track admission team today! Be sure to inquire about the hybrid and campus-based ABSN track options with fall and spring starts.